Yesterday, I managed to make a wonderfeal meal out of a tragedy. It also proved my point that everything happens for a reason. I have been trying to get back to planning menus and trying to use what we have. Unfortunately for me, I may have planned too well. Last nights meal was supposed to be oven roasted chicken. However, I unwrapped the chicken and realized rapidly that there was no way we were going to eat this meat. It had already gone bad. I was so upset.
However, the night before I had picked up some store-made fried chicken after work and had picked up enough to act as a couple meals, most likely a couple of lunches. But I certainly had enough for a mixed dish. So, I sped up the menu plan and made the meal I had planned for the leftover roasted chicken. It was a completely made-up and yet it turned out better than I could have imagined. It's a relatively easy Cheesy Chicken Casserole recipe. And we would not have been able to have it had I not picked up that fried chicken. I'll include the recipe at the end of the blog post.
Yesterday, I also took advantage of the lack of school-teaching to get some important things done like folding laundry and I also trimmed Little Guy's hair. I loved his hair style, it was definitely in keeping with his personality. It was kind of wild and free, and definitely marched to the beat of its own drum... However, Little Guy doesn't believe in using napkins. That, apparently, is what his hair is for. And, as it got longer, the harder it was becoming to prevent. So, after his bath yesterday, I made a valient attempt to cut his hair. That meant trying to get him to stand still for a few seconds.
What actually happened is I managed to get parts of his hair cut short. It is DEFINITELY not a professional hair cut and I am thrilled that his hair is curly enough to hide some of the mistakes I made while trying to get him to hold still. As Big Guy pointed out though, it's short in the back and longer in the front... And with his hair being the way it is, it's totally a "Buddy Holly" hair style. What have I done?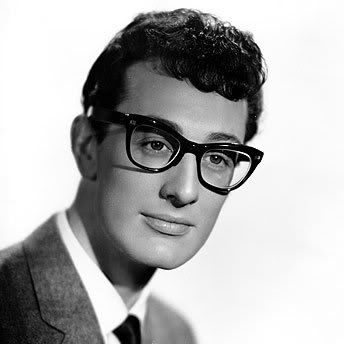 Sadly, with both his father's and my eyesight, he's likely to need glasses like Buddy Holly too. I hope that the mad eating of carrots that I did during the pregnancy may help him to avoid too terrible of eyesight though. Poor kid.
But now, the recipe:
Easy Cheesy Chicken Casserole
Leftover chicken pieces
1 family size can Cream of chicken soup
1 can mixed vegetables
1 can corn
1 cup shredded cheese
1 tube large flaky biscuits
Pre-heat oven to 350 degrees F.
Tear up the chicken and remove from the bone. Put chicken, Cream of Chicken soup, veggies, corn and carrots in a large baking dish and mix with the cheese.
Open the tube of biscuits and tear each biscuit in half and layer across the top of the mix. Bake for 20 - 25 minutes.