My Valentine's Day went pretty well. It started rather oddly though. I awoke to a rather strange rattling noise coming from the front of the house. I nudged Big Guy and told him to go see what his son had gotten into. He listened for a minute and then said he knew what it was and it wasn't Little Guy. He also said I needed to get up first.
So, I stumbled from our bed, made my way into the kitchen, and stepped into water on the floor. It wasn't anything too terrible though . Big Guy had gotten up earlier and set the coffee maker to brew some coffee. Unfortunately, he had forgotten to put the top down and it sprayed some of the water on our floor. After we fixed that problem, I went into the family room and was greeted with an adorable teddy bear and chocolates.
I received a small box of assorted chocolates from Big Guy and a large Kiss from Little Guy, a 7 oz one! We played games and watched TV and were generally happy relaxing together. Little Guy went into the front room and played
Lego Star Wars
until he decided he wanted to play with actual Legos. At that point, I had to put the brakes on relaxing.
Big Guy and I told Little Guy that if he wanted to play with Legos, he had to clean up the floor in the front room. Little Guy took us at our word. With in five minutes, he came running back into the family room, telling us that he had finished. Big Guy and I exchanged glances and then Big Guy went back to check. Withing moments, he laughingly called me to the front room.
Little Guy had indeed picked up the floor - and covered the sofa and his car table with his toys. After I finished laughing, I told Big Guy we needed to do something about this. So, a portion of our Valentine's Day was spent cleaning the front room.
After we finished, Little Guy watched the Star Wars movies and played with his legos. When Big Guy finished playing his video game, he went in there and "helped". It was adorable. I asked Little Guy what his dad was doing and got the response, "He's building!" Even more adorable, Big Guy and Little Guy came out to show me the "cool" space ship Big Guy had made.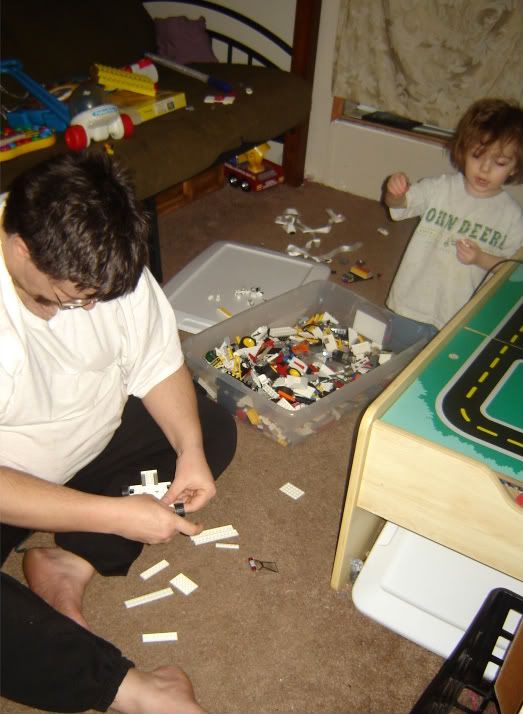 While my Valentine's Day may not have been red-hot and sexy, it was definitely a sweet day... More a nice shade of pink.